A Much Needed Thank You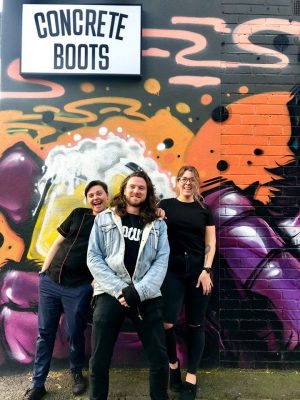 This is a long one- but a needed post to thank all the legends who've helped us in the past few months.
It's been a tough time for the industry and the world as a whole. We went from being nearly booked out for months, to a completely new business model in a matter of days. Which, to be completely honest, was pretty scary knowing that any new move we made could be a step in the wrong direction. All while making sure we stayed true to who we are, keeping quality and sustainability front of mind for our customers and our product. And hand washing. Lots and lots of hand washing. But, we're here, we're (luckily) healthy, and our doors are finally back open.
We owe a massive thank you to some legends that really threw their weight behind us and helped us not only stay open, but completely pivot our entire business structure.
Without their help it's safe to say, we wouldn't have gotten through it. So, here we go:
To the #3121 Community (Richmond 3121): The amount of love and support we've felt from our neighbors has been humbling. To all of our customers – To the regulars who might as well have their name engraved somewhere in the bar, to the new friends we've gained through this madness over take-away and delivery chats from a safe distance, and to the ones who've shown their love from afar – we are so grateful.
To Young Henrys and the legend himself, Stephen Arthur, for being there for us at the drop of a hat at all hours of the day, even when his work life completely changed for him. And of course for the damn fine drop from Young Henrys, hooking us and the neighborhood up with the finest Sydney side brews.
To Moon Dog Craft Brewery and the absolute bloody ripper of a rep, Scott Thompson, for keeping his boots on the ground and popping in for an always friendly (socially distant) hello each week. Even though he took on new roles within the company, he always made time to say hi. And of course, not to go without mention, the range of classics and seasonals we've had on tap and tinnie from the legends just down the road.
To Jethro Canteen and the entire team there- we would literally have fallen asleep behind the bar on these 12+ hour days without you all fueling us daily with many caffeinated beverages. Not to mention, accepting a ridiculous amount of deliveries on our behalf presently, and during lockdown. Seriously, thanks.
To Berties Butcher & Little Berties BBQ Café– even when times were tough and supplies were low, you always treated us with the kindness we've known from you throughout the years. Thanks for staying positive and keeping our customer's tummies full with the best quality and sustainably sourced meat we can find.
To A Local Beer– We've loved you guys from day one and the love just continues to grow. Keep on being awesome and making awesome beers for a good cause.
This list of appreciation doesn't end with the few mentioned above, there were so many people who stepped up and supported us through all of these changes over the past few months. Without wanting to sound like a broken record, just, thank you.
While there are restrictions still in place to keep our customers and staff safe, our doors are back open for service and we have some exciting things on the horizon:
Lock Down Pop Up Kitchen Series (each Sunday)
Footy! AFL is back and we'll be showing it on the projector!
Expanded Menu! Grass fed Steaks, Free range Pork, Fish of the day….. stay tuned.
Venue changes starting with Outdoor Heating!
It's been a wild ride, and it's still going to be a while before it goes back to normal here at Boots, but until then, we'd appreciate your continued support. Below are a few ways to help us out.
Like our social media pages (@concretebootsbar)
Share our posts with your friends!
Book a table (ring us or dm us!)
Recommend us to mates.
We love you guys.
Lots. Like a lot, a lot.
Thanks for being legends.
Keep washing your hands.
Elbow bumps,
The Boots Crewimg-7250